Getting Started
" Organized Skepticism. Scientists are critical: All ideas must be tested and are subject to rigorous structured community scrutiny." - R.K. Merton, 1942
Data Storage
Good: pencil and paper
Better: spreadsheet
Best: standardized file format, database management system
Formats: Evaluated Nuclear Data File (ENDF), Evaluated Nuclear Structure Data File (ENSDF), Hierarchical Data Format (HDF), etc.
Management: C/Python/Fortran APIs, SQL, MySQL, MongoDB, etc.
Backing Up Files
Good: hope
Better: nightly emails
Best: remote version control
Version Control Systems: cvs, svn, hg, git
Getting It Done
" It takes just as much time to write a good paper as it takes to write a bad one. " - Polterovich, 2014
Analysis
Good: pencil and calculator
Better: spreadsheets, matlab, mathematica
Best: scripting, open source libraries, modern programming language
Hint: Python, scipy, numpy, numba, pandas, scikit-learn, scikit-image, etc.
Multiple File Cleanup
Good: manually edit every file
Better: search and replace in each file
Best: scripted batch editing
Hint: try a tutorial on BASH, CSH, Python, or Perl.
Excecuting Workflows
Good: retype a series of commands
Better: bash script
Best: build system
Build System Tools: make, autoconf, automake, cmake, etc.
Data Structures
Good: 100 string variables holding doubles
Better: lists of lists of doubles
Best: appropriate powerful data structures
Hint: In FORTAN, learn about arrays. In C++, learn about maps, vectors, deques, queues, etc. In python, the power lies in dictionaries and numpy arrays.
API Design
Good: single block of procedural code
Better: separate functions
Best: small, testable functions, grouped into classes, DRY
DRY: Dont Repeat Yourself. Code replication is bug proliferation.
Variable Naming
Good: d1, d2, d3
Better: x, y, z
Best: p.x, p.y, p.z, p=Point(x,y,z)
File I/O
Good: none, hardcoded variables
Better: plain text input file, line-by-line homemade string parsing
Best: file parsing library
Tools: python argparse, xml rng, etc.
The Journal of Open Source Software (JOSS) is a developer friendly journal for research software packages.
What exactly do you mean by 'journal'?
The Journal of Open Source Software (JOSS) is an academic journal (ISSN 2475-9066) with a formal peer review process that is designed to improve the quality of the software submitted. Upon acceptance into JOSS, a CrossRef DOI is minted and we list your paper on the JOSS website.
(More: JOSS Editorial Board. "About JOSS" joss.theoj.org/about. 2018.)
Don't we have enough journals already?
Perhaps, and in a perfect world we'd rather papers about software weren't necessary but we recognize that for most researchers, papers and not software are the currency of academic research and that citations are required for a good career.
(More: JOSS Editorial Board. "About JOSS" joss.theoj.org/about. 2018.)
You said developer friendly, what do you mean?
We have a simple submission workflow and extensive documentation to help you prepare your submission. If your software is already well documented then paper preparation should take no more than an hour.
(More: JOSS Editorial Board. "About JOSS" joss.theoj.org/about. 2018.)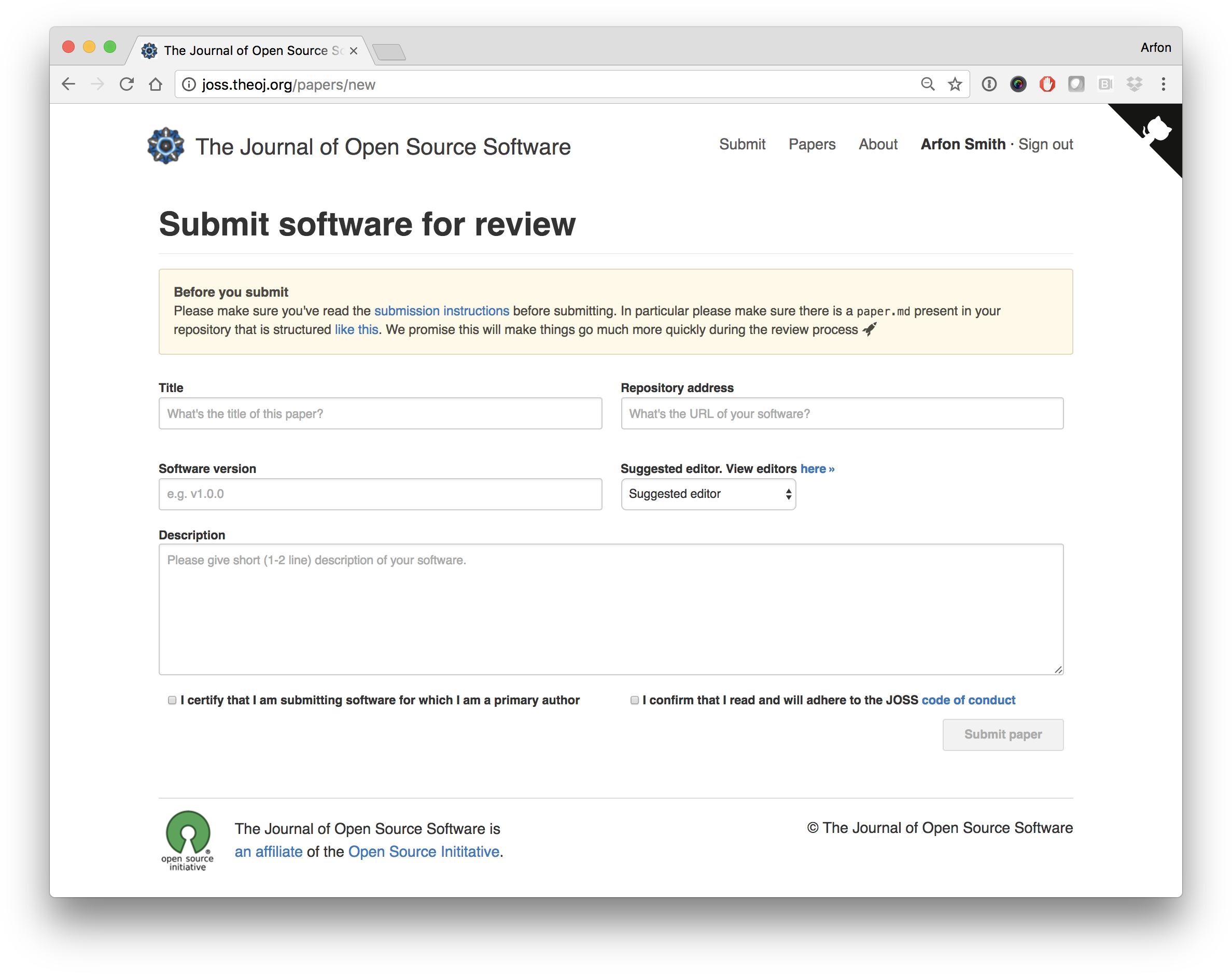 DOI: 10.7717/peerjcs.147/fig-1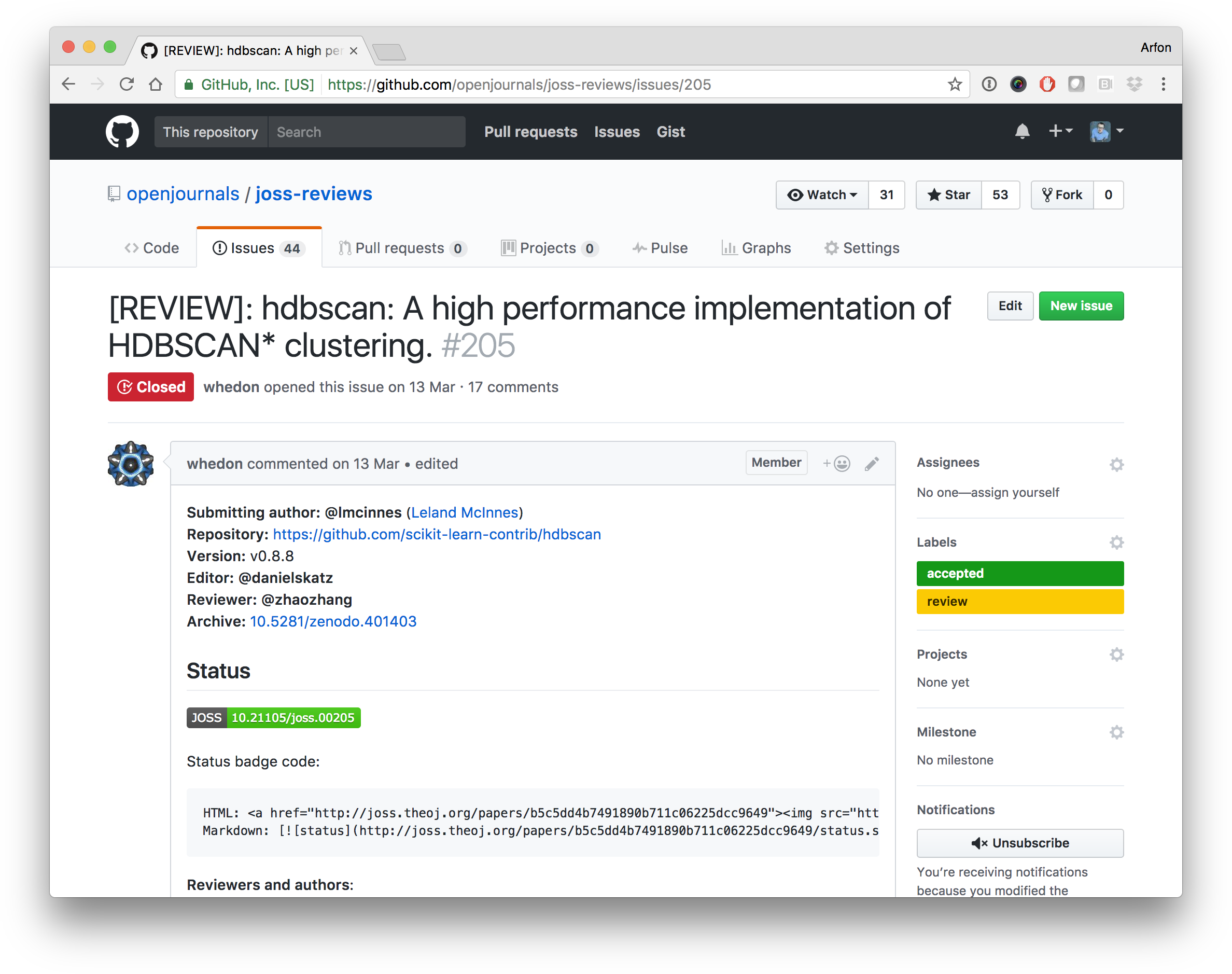 Image DOI: 10.7717/peerjcs.147/fig-2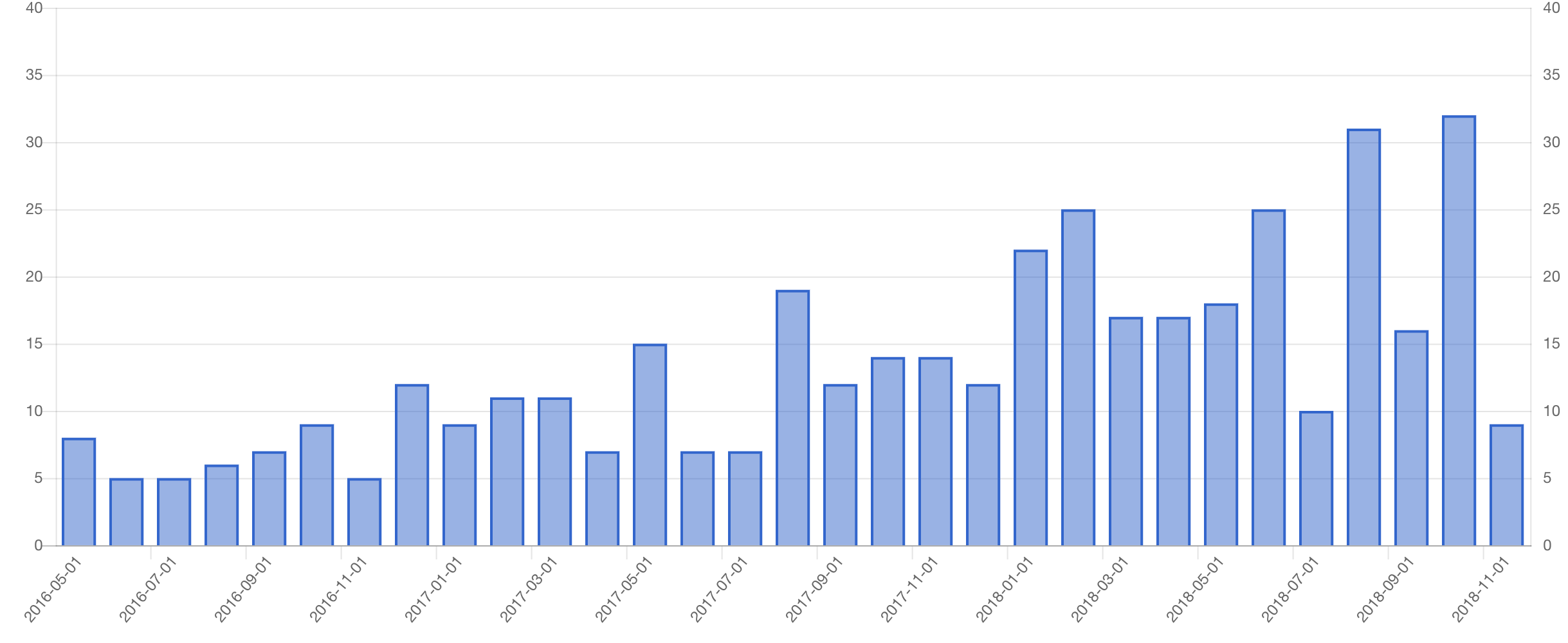 JOSS papers accepted by month, as of today.